Congratulations on taking personal responsibility for the safety of yourself and your loved ones. Our Concealed Carry Classes will equip you with the knowledge, skills, and attitude to safely and effectively handle, shoot, store, and carry a handgun.
Classes are typically small, so everyone receives personal attention. A low pressure, informal, and fun atmosphere with practical exercises both assist in learning and make the day go faster.
In our Illinois Concealed Carry class you will learn -
The Firearm Concealed Carry Act
Justifiable Use of Deadly Force
What Is Unlawful Use of a Weapon
Presenting From a Holster Effectively
How To Choose A Handgun
Conceal and Carry Methods
Basics of Marksmaship
Combat Effective Shooting
And much, much, more...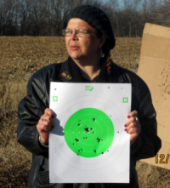 Using time tested and proven methods, we will typically have a total newbie consistently hitting a ten inch bullseye from ten yards within the hour. When you get the fundamentals down - accuracy happens. With our help, YOU CAN DO THIS! The student pictured above had never even touched a pistol till an hour before this photo. By the way, the larger holes are when she wanted to try the mighty .40 cal!
All our courses satisfy the training requirements for a Florida non-resident permit which will allow you to carry in 30 additional states. Application packets will be furnished.